TL;DR – Deadline for application is May 17th.
So, what's this all about?
Well, it's all about you. Seeking for new opportunities to learn the most precious knowledge – with real challenges, professional tech stack and remote teams environment.
Ok, you have my attention. Now what do you need?
Our offices are located in Kraków & Gdańsk. So it's important that you are capable to come to work on a daily basis, because remote internship wouldn't make sense for us. 🙂
This internship program is tailored to IT or any other related subject students.
We have 2 spots available for you this year.
The key is to be eager to learn new things. Curiosity over knowledge. Attitude over experience. Right questions over blind answers. Combine it with a strong basics knowledge and you are the perfect candidate!
Ok, ok – I get it. But I want interesting projects!
Let's start with technologies. This year all of our positions are divided into two types:
Yes, you can apply for both of them, but based on our experience from previous years, people that already have an idea of pursuing a certain path usually have better chances.
You still need to convince me. It's summer, I have a plenty things to do at that time. And different summer internships proposals too.
Yes, yes. Working in summer is a good motivation test, but you could ask any of our Jedi's (that's how we call employees that have been working with us for more than 5 years) and they will tell you that they did the same and it was well worth it.
First of all, you get a salary of 3300 PLN gross/month. But most importantly, you will be guided by a mentor that will ensure that every day of this internship will be worth your time. New frameworks, professional team setup, proper level tasks – we got you covered. 🙂
The internship lasts throughout July and August, ending with a few days Scandinavia trip where you can meet with other interns and your remote co-workers (and post cool Insta Stories too!)
You can apply via our Career Page
But you still haven't mentioned teams…
We don't want you to scroll forever, so we rather focus on a bigger picture. Since 2012 Schibsted Tech Polska helps our parent company, Schibsted Media Group working on mobile, web applications and cross-platform solutions that helps media companies in the challenging digital environment. If working for a software house concerns you – good news, this is a completely different setup.
SEALS – Frontend Developer
SEALS is a team of nine cross-technology skilled developers. We lead very unusual life compared to other Schibsted teams, working on multiple projects simultaneously, wherever there is a need for our support. During internship, you will join our efforts in developing an educational platform for schools in Norway. We value knowledge, but we believe that engagement is more crucial in achieving success.
Quick reconnaissance, search and rescue mission, long-term campaign – expect everything.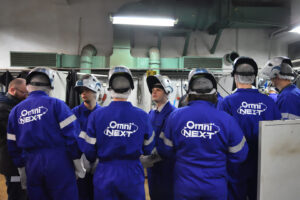 Omni Next – Android
Apple News, Google News, feedly – you probably know those news aggregators. But imagine something on a completely different level. Full editorial team, curating content with helpful insights, the most popular podcasts in Scandinavia. We develop fast and reliable apps helping to handle all the content. Welcome to the Omni Next team. By the way, we have ditched Java a few years ago, so be ready for Kotlin.
All right, what's the plan?
To keep everything tidy & don't bother you with a wall of text, we've got the infographic that will guide you through the process:
Last year we got over 600 CVs, don't wait too long 🙂
If you can remember only 2 things from this infographic, keep in mind the following dates:
14.05 – Trójmiejskie Targi Pracy [FB event]
17.05 – The deadline for sending applications
Now it's time to smash that Apply now button!
In 2016 – over 200. In 2017 – over 400. Last year – over 600. Yes, the number of applications is growing fast, so it's better to not wait for too long. Good luck!