Brace yourself, Hack Day 2018 is coming up soon!
This year's edition will be special as we gonna make a joint event with our friends in Oslo and Stockholm. Well, not exactly joint but… Synchronous. What does it mean exactly? Basically, we will do a silent streaming across all locations during the first day of hacking and a joint demo session the next day. See all the details below.
Agenda
Wed, Nov 14

8:30 – 9:00 registration
9:00 – 9:15 kick off
9:15 – 9:30 team settle up
9:30 – 17:00 hacking
17:00 – 22:00 afterparty, beers & pizza
Thur, Nov 15
9:00 – 11:00 demo
14:00 – 14:30 finals & prizes
Theme
We want to bring a 90's vibe with all its retro style. Remember good old games like PacMan, Mario or Mortal Kombat? What about Turbo chewing gum or legendary ortalion tracksuits? Now you probably get a feeling! We won't force you to jump into your old, funky clothes but strong outfit inspirations are very welcome.
Day 1: Hacking & Afterparty
This year the hacking part will last from "9 to 5". After 5 pm it's time for some games! We encourage everyone to stay for a beer and some video or board games. It will be fun! Have an idea for a game? Share it to #stp-hackday-2018
Day 2: Demo & finals
The second day is devoted to demos. Each hub: Gdańsk, Kraków, Oslo, Stockholm will have time slots to present their projects. We will start at 9 am, the exact order will be provided later. Once we listen to all projects there will be a public voting and awards later on.
Venue
This year we want to gather all Hack Day participants in one venue, for two reasons. One, we want to arrange the space and create a nice atmosphere during the event. Second, to make the streaming easier. Thus the natural choice for the venue in Krakow and Gdańsk is the kitchen and social area. Depending on the number of participants, we might also use the biggest conference rooms.
Teams & projects
You can work individually or form a team with up to 5 members. The team can be distributed between locations.  Final teams and project topics need to be formulated at the event day during the check-in. You can start a new project or continue already started, eg. during another hackathon. 
Presentations
Presentations will be in English. Each team has exactly 3 min to present their project, we gonna keep track on time.
Voting & prizes
The voting will be handled online and each of you can give one vote for your favorite project. There will be one public voting for Krakow and Gdańsk. We will feature one best project in Krakow and one best project in Gdańsk. Each member of the team will receive an award. 
Registration
The registration for the event lasts for a week, starting from 11th until 18th October. You don't need to have a ready idea for the project yet, just let us know if you want to take part in the event.
Photos & contest
We don't plan to hire a professional photographer – we want YOU to take photos because we think it's more fun. That's why we would like to announce a photo contest! A person who will take the best photo from the Hack Day event will be awarded a special prize.
Slack channel
Questions about the event? Or maybe you have some ideas about the projects or on how to boost the event with some gadgets, food, drinks, decoration, games, music or anything else in 90s style – speak up! Join the discussion on the dedicated slack channel #stp-hackday-2018. Let's make this event great together.
Previous editions
Here are some photos from previous editions. The first STP Hack Day was organized in 2014, so this year it's already the 5th edition! Take a look at how it used to be back in time. All photos can be found here.
2014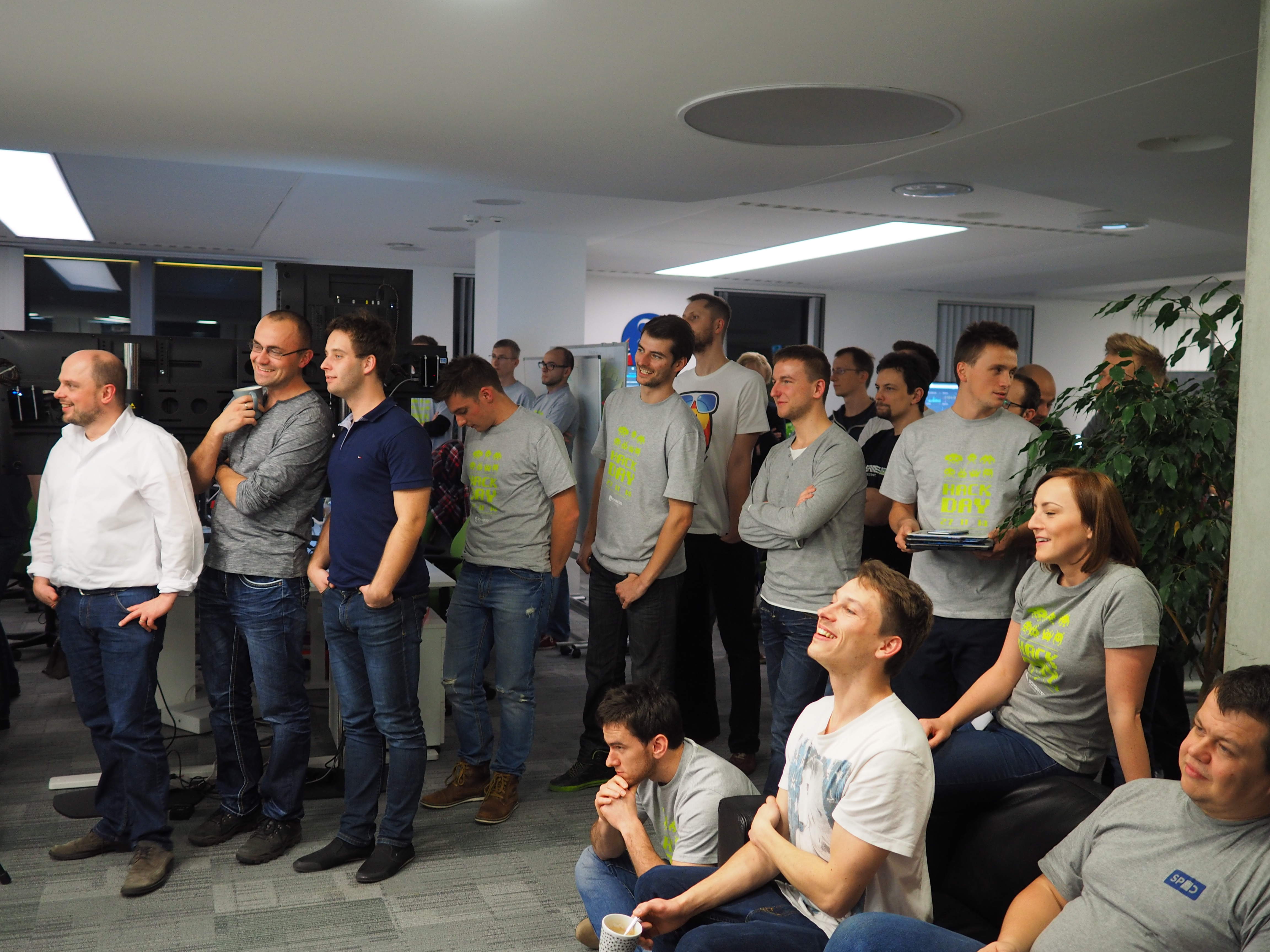 2015
2016
2017